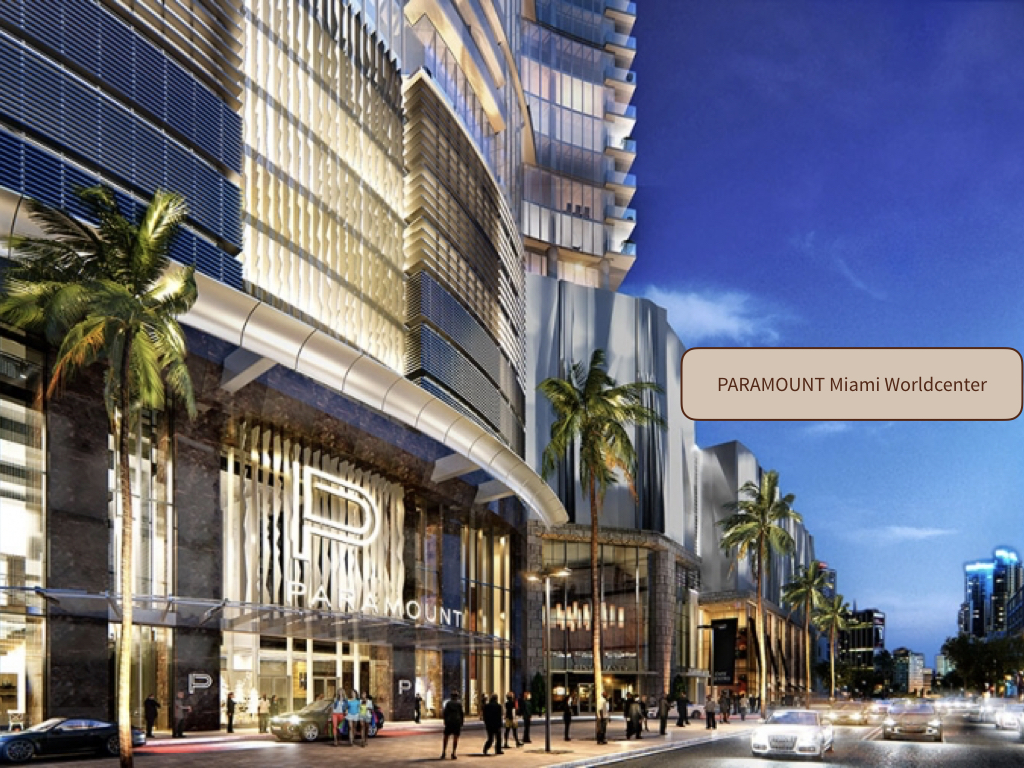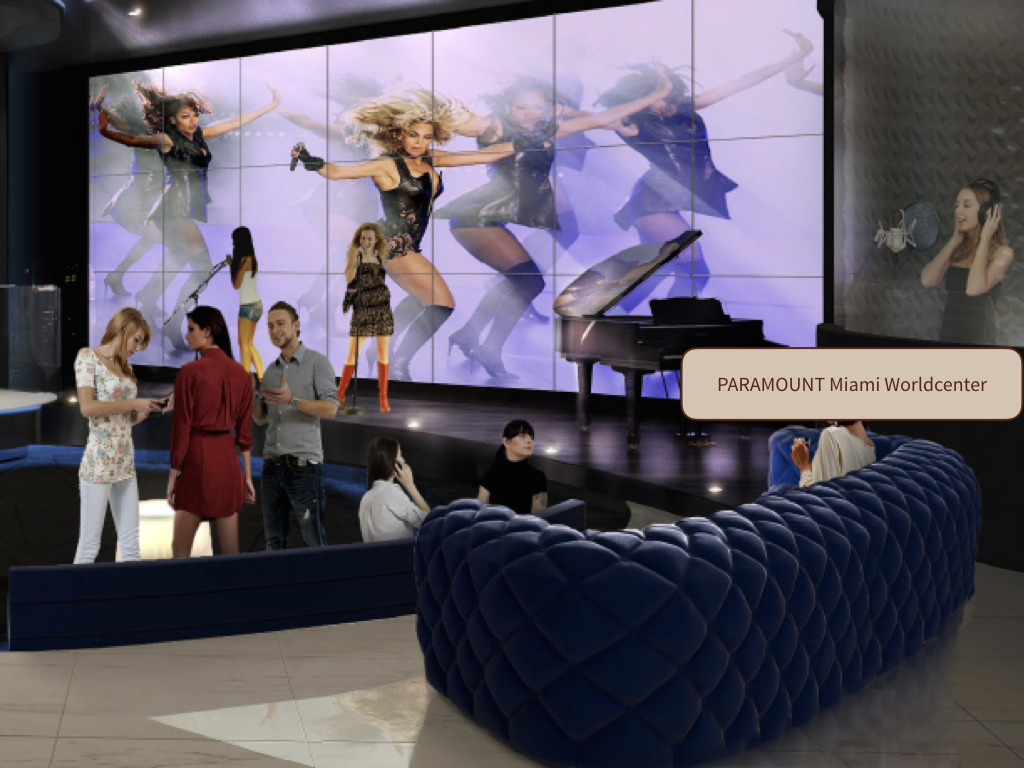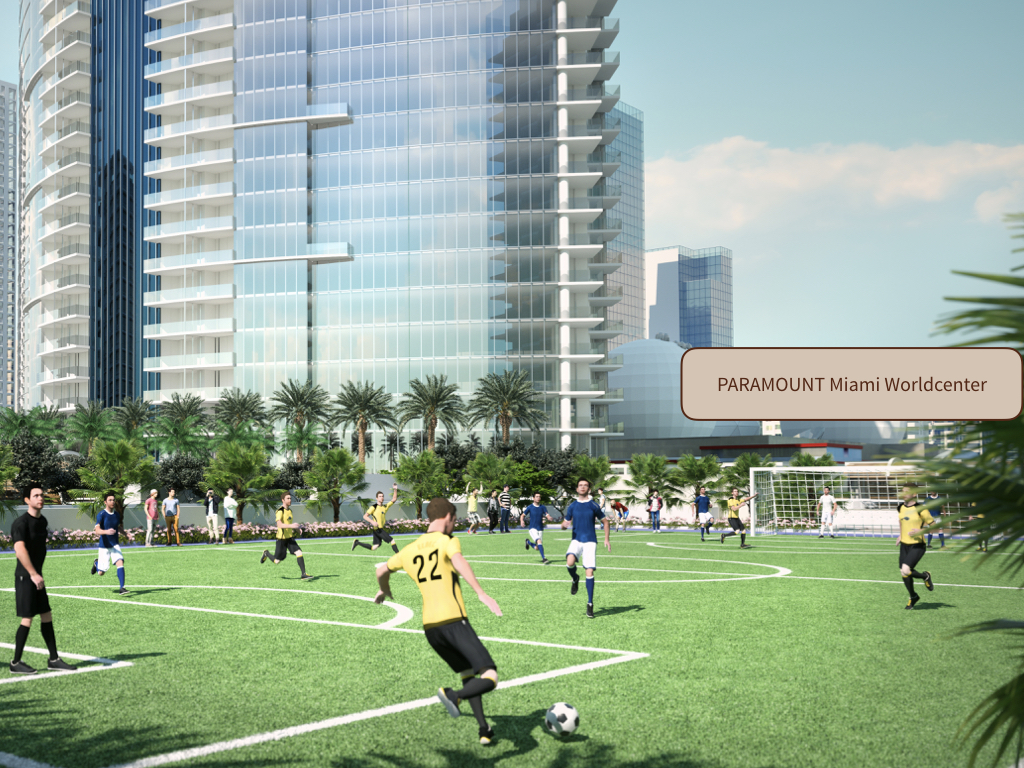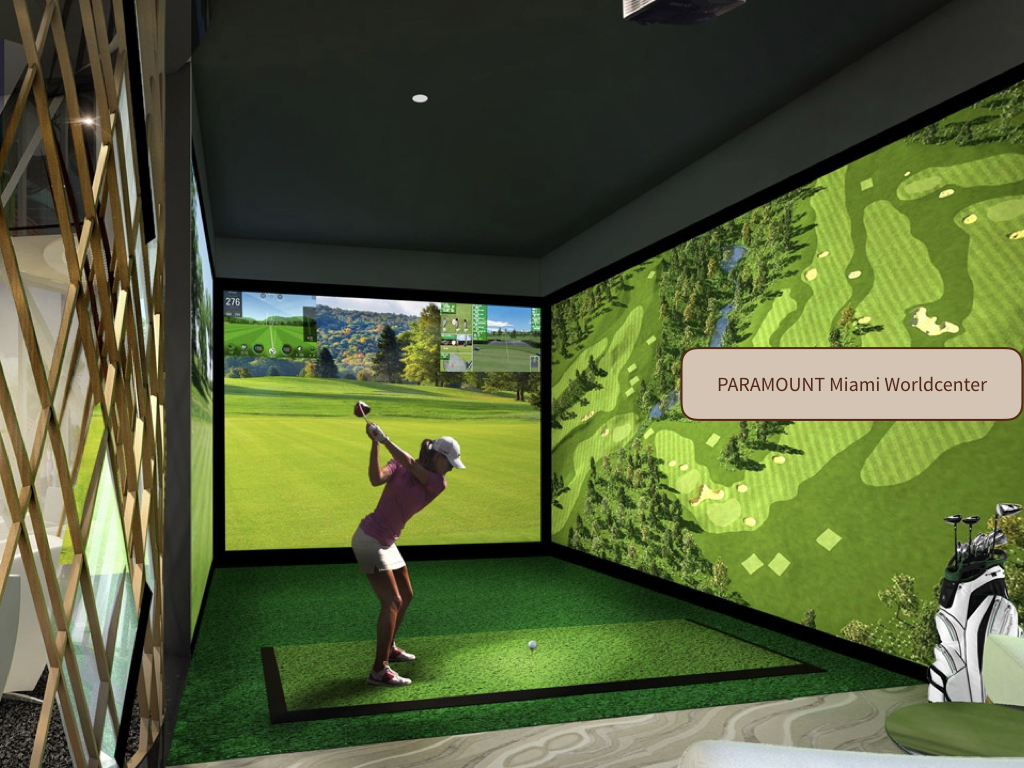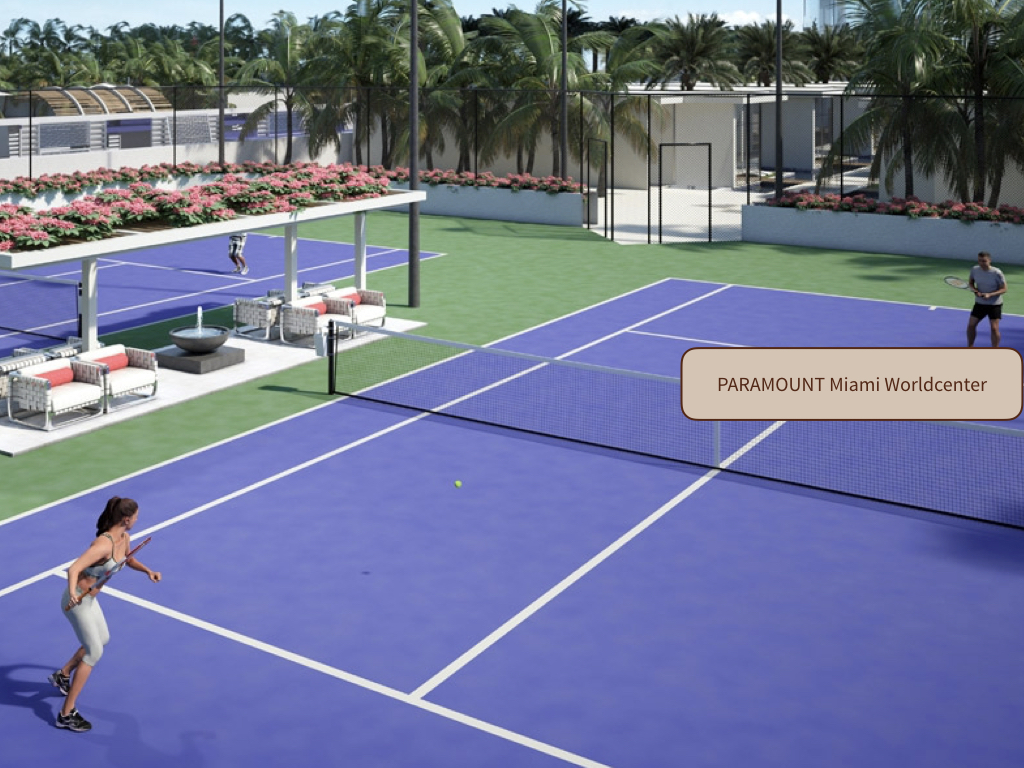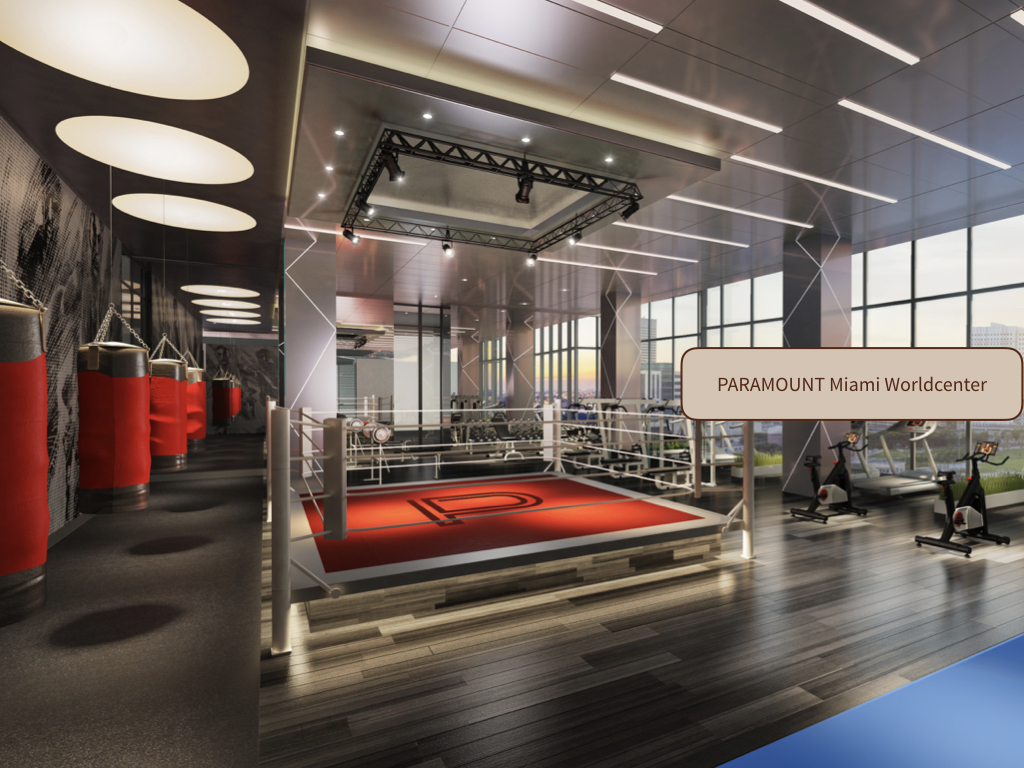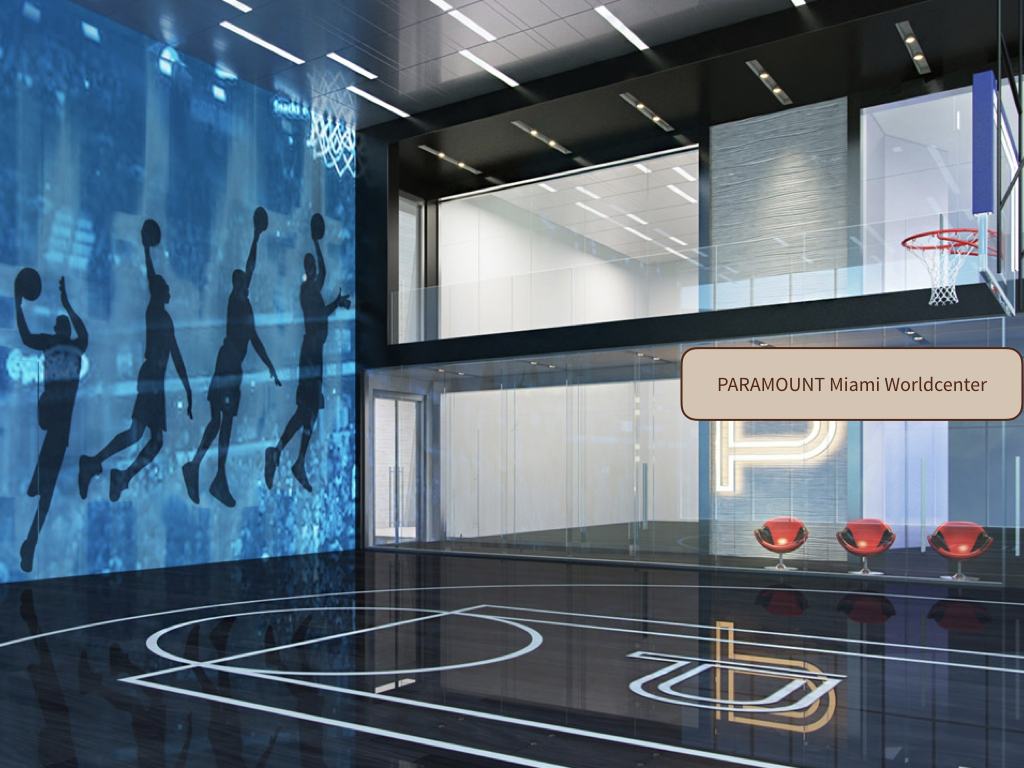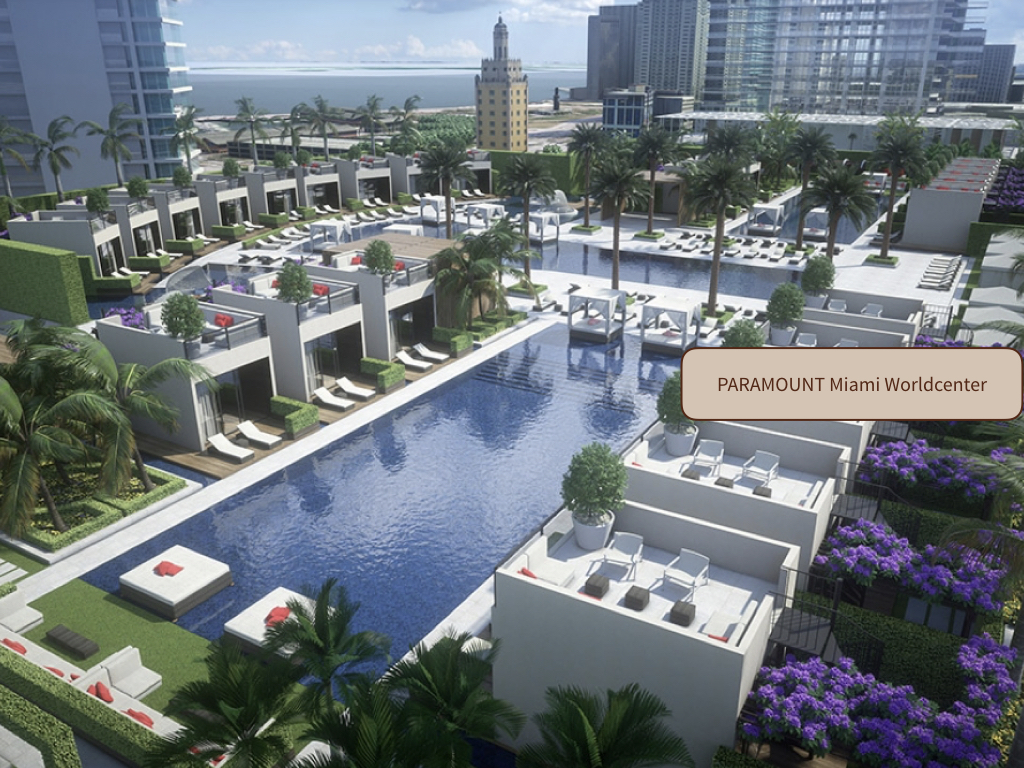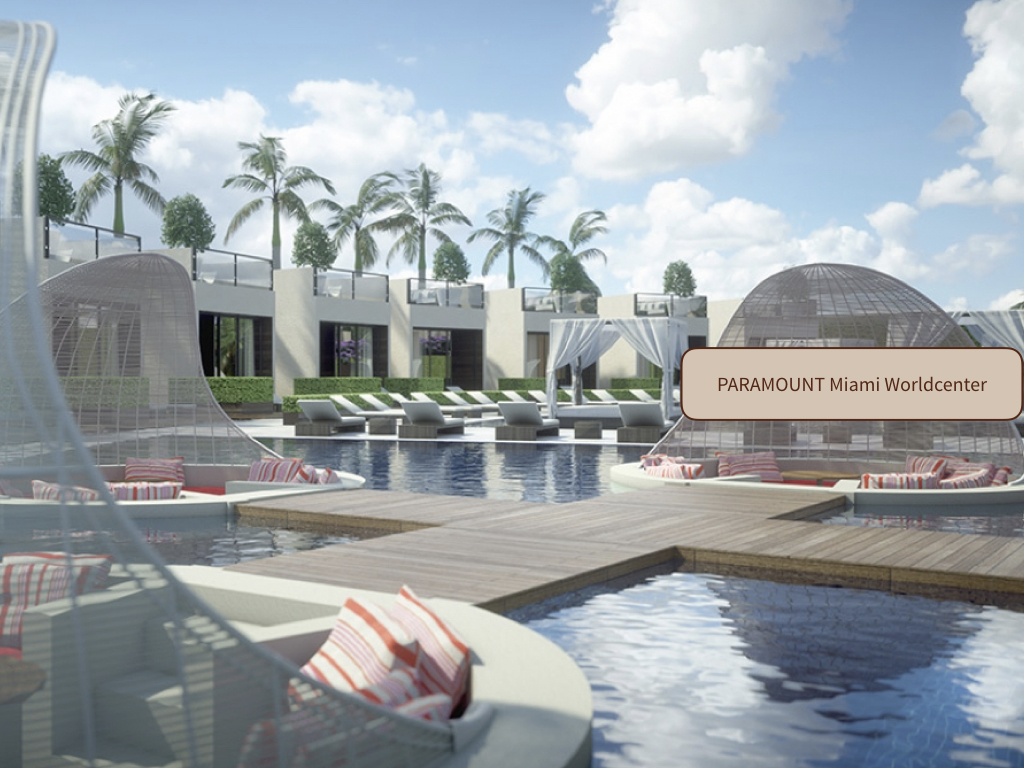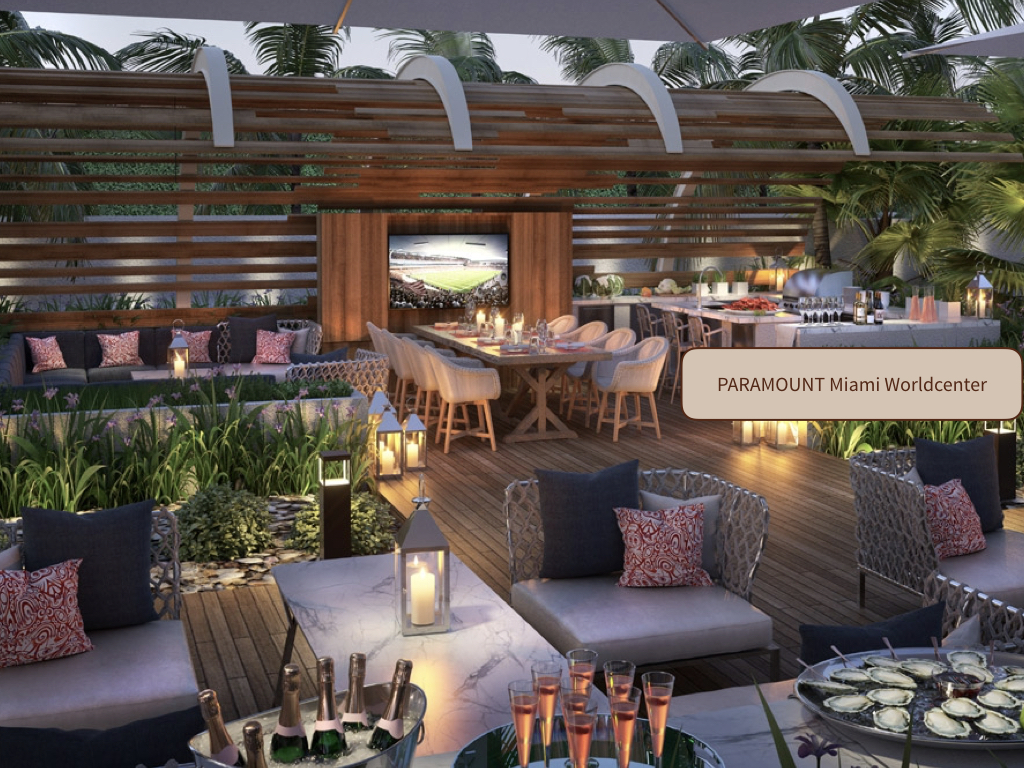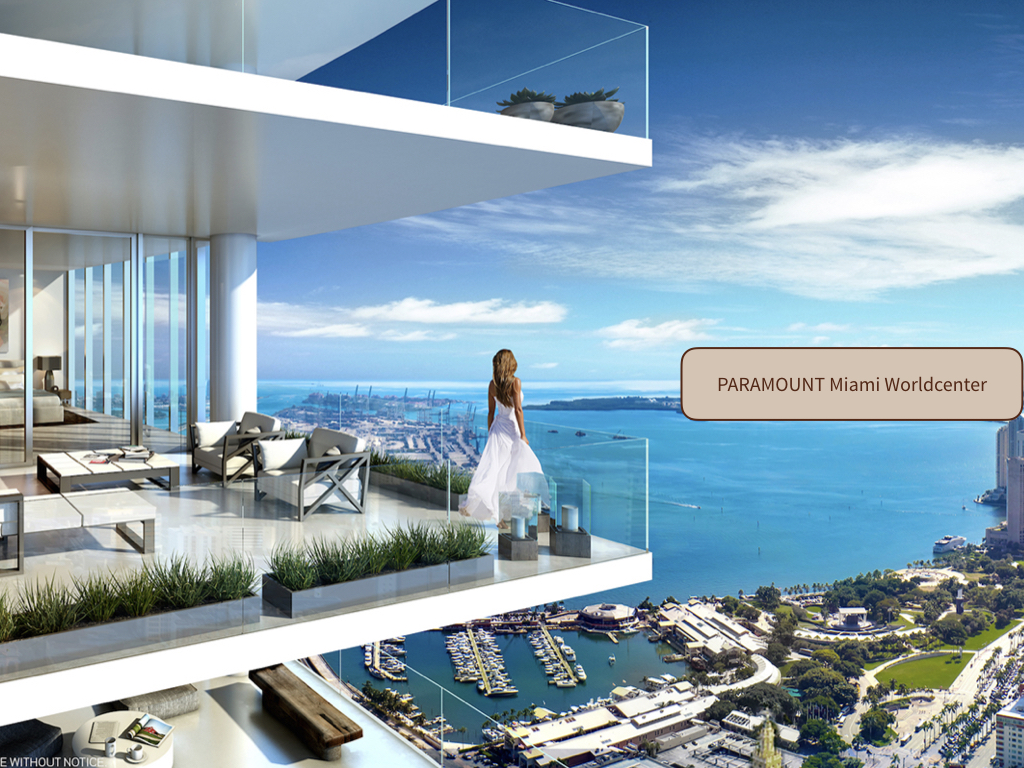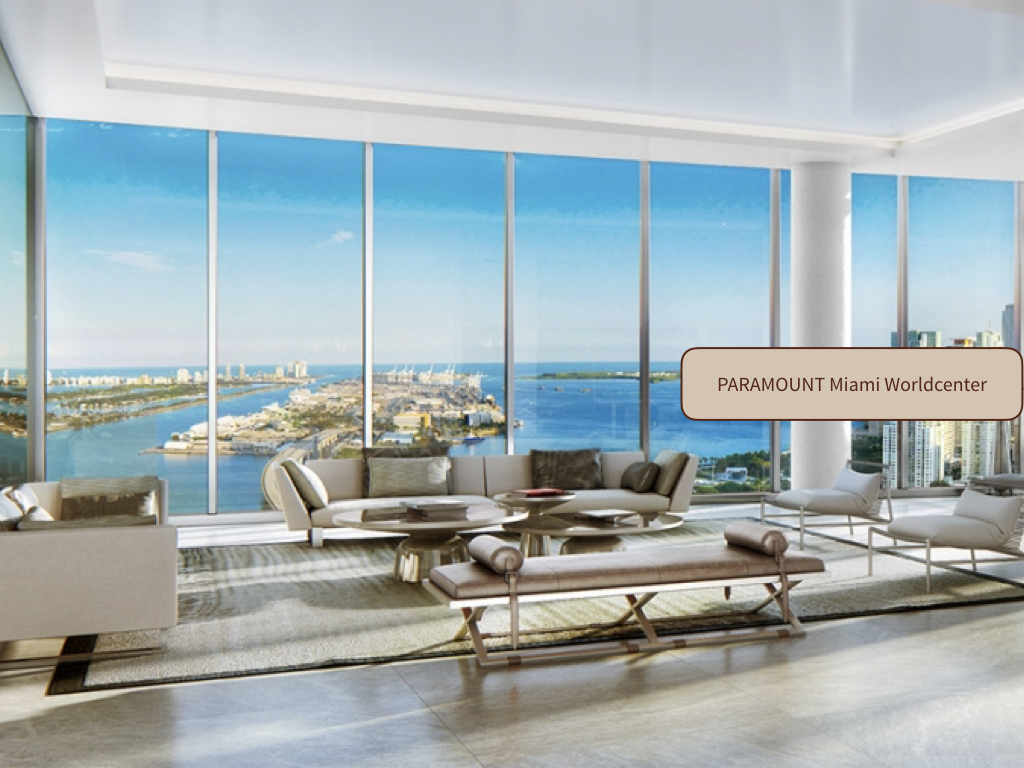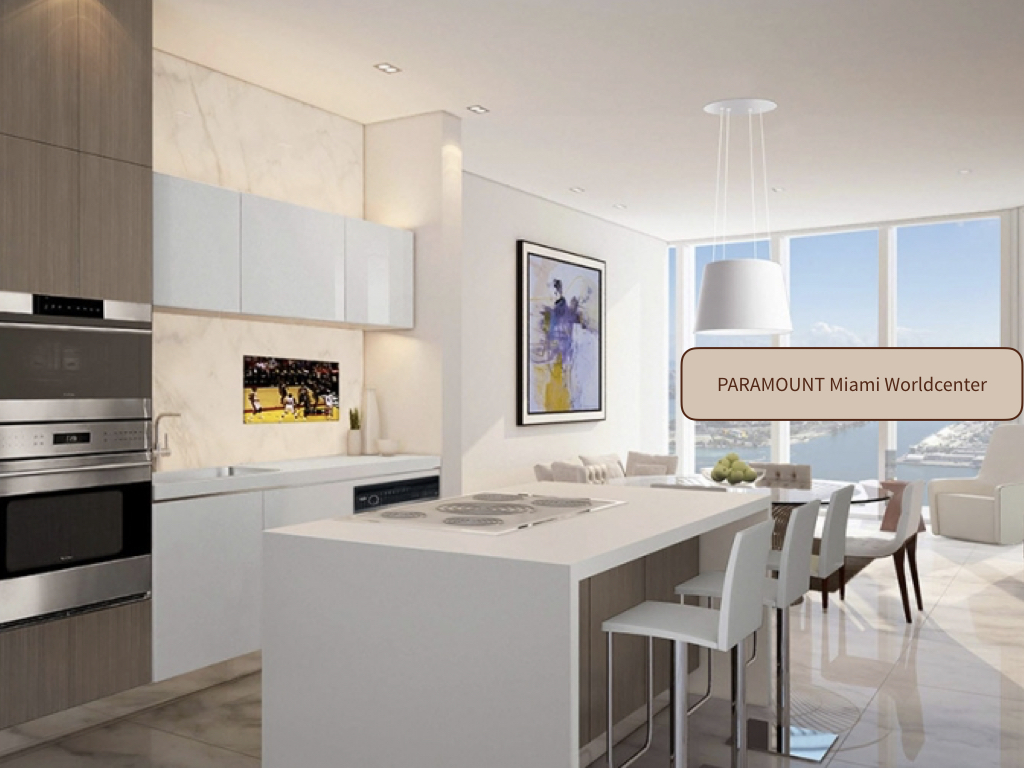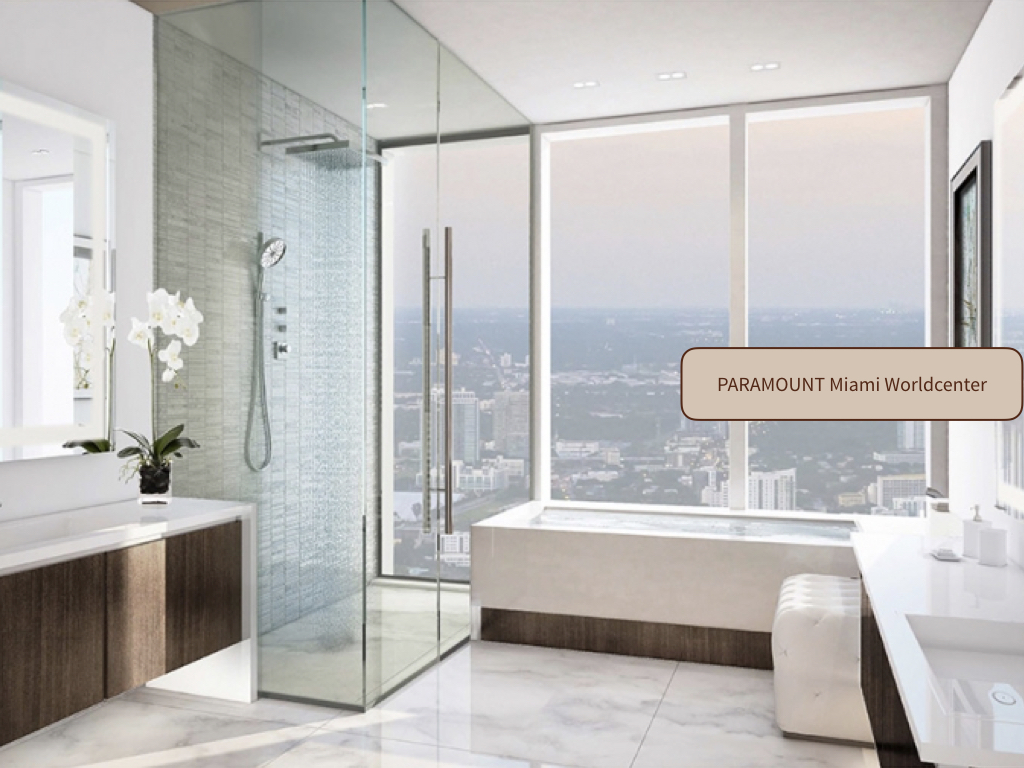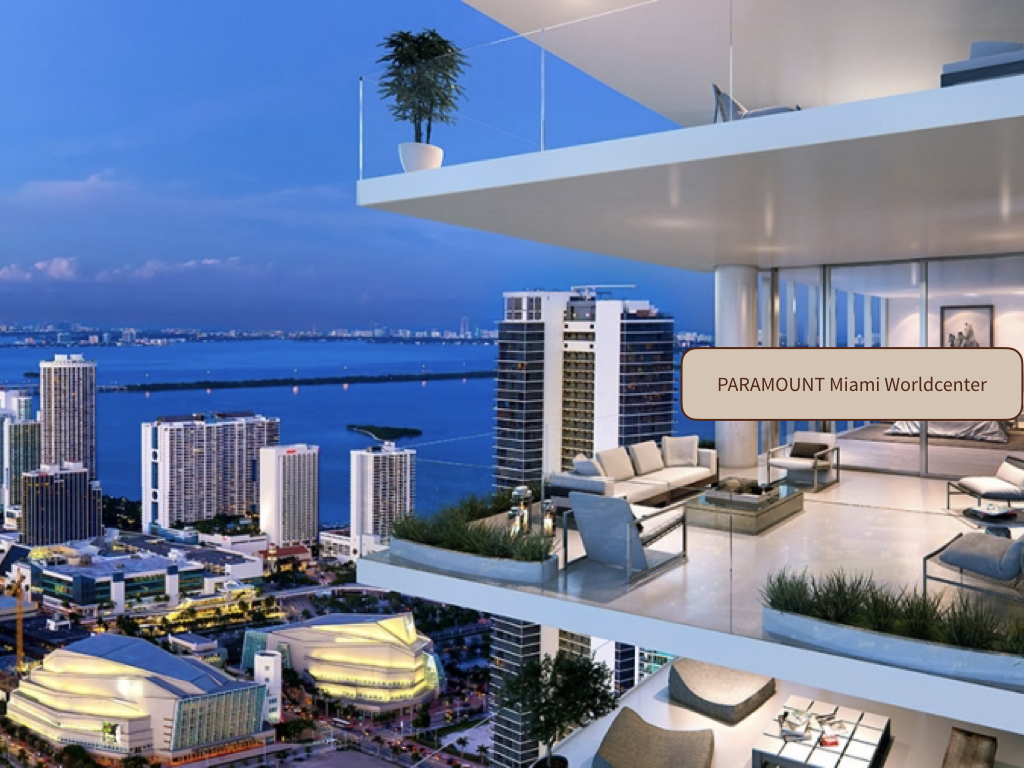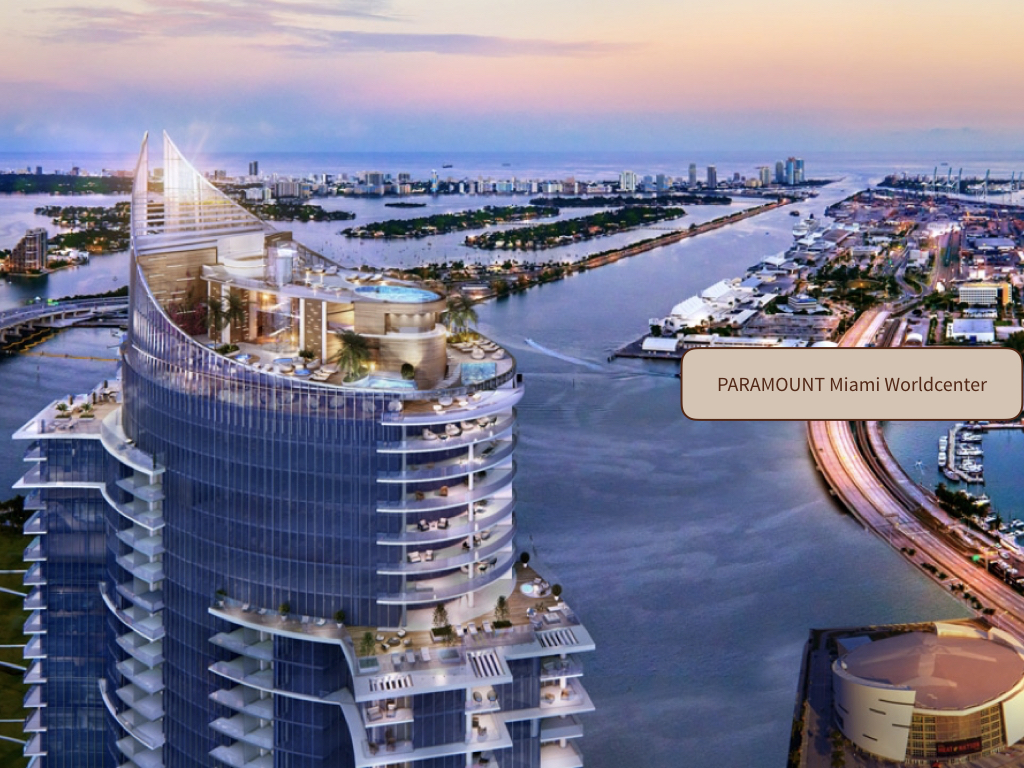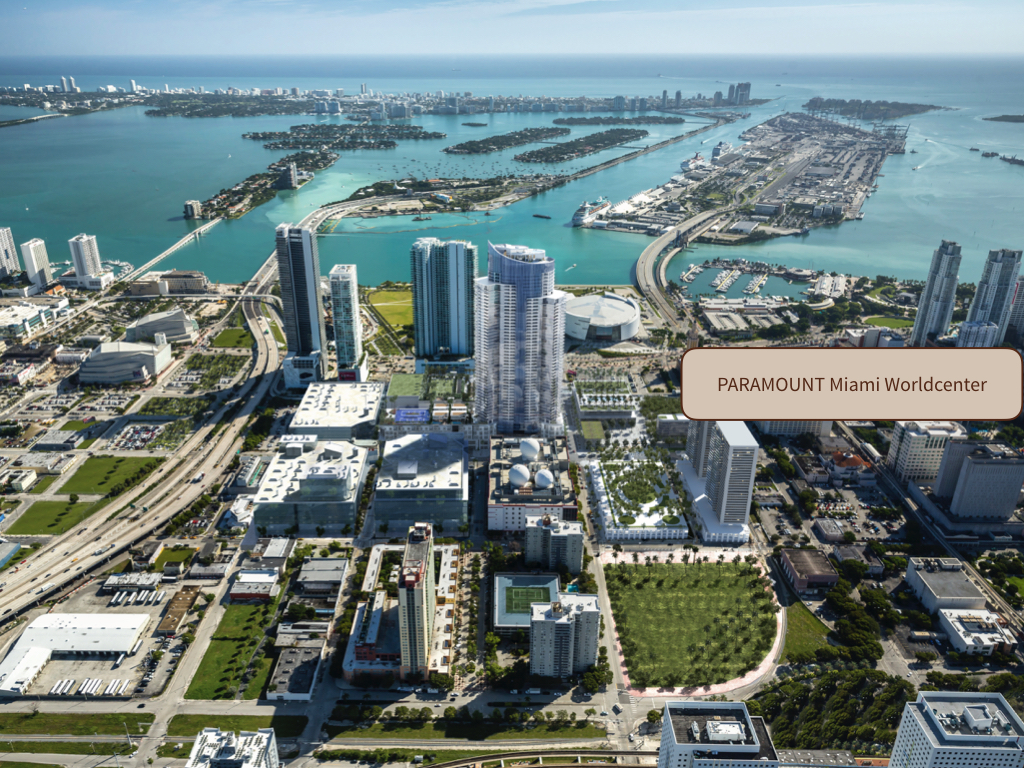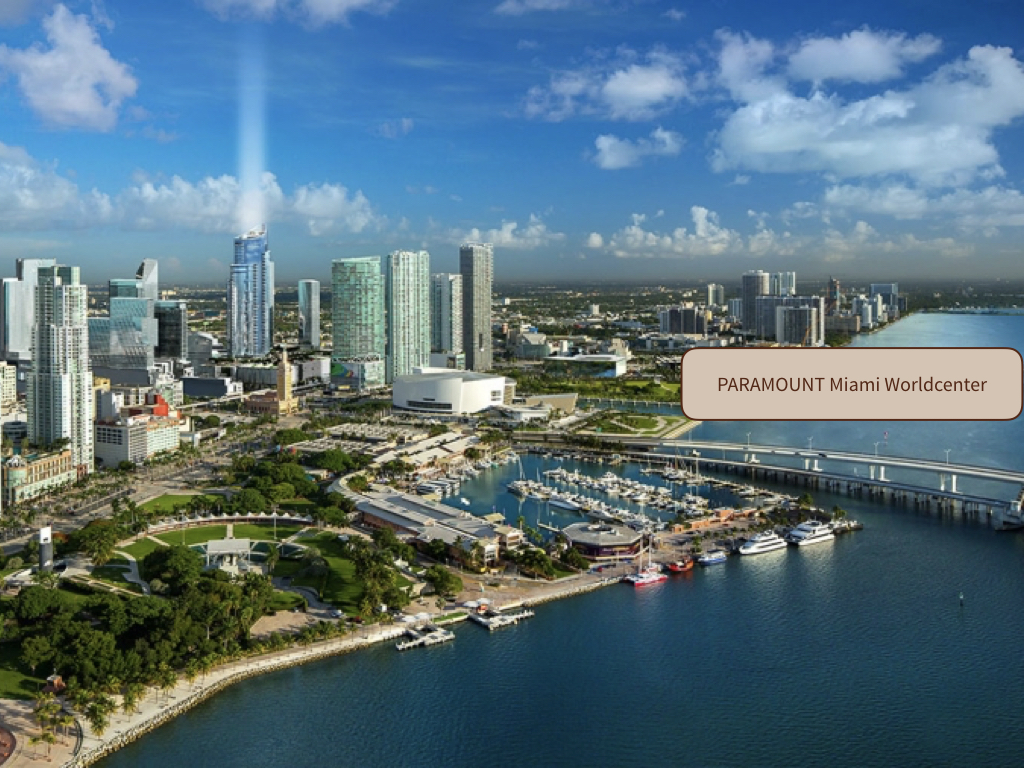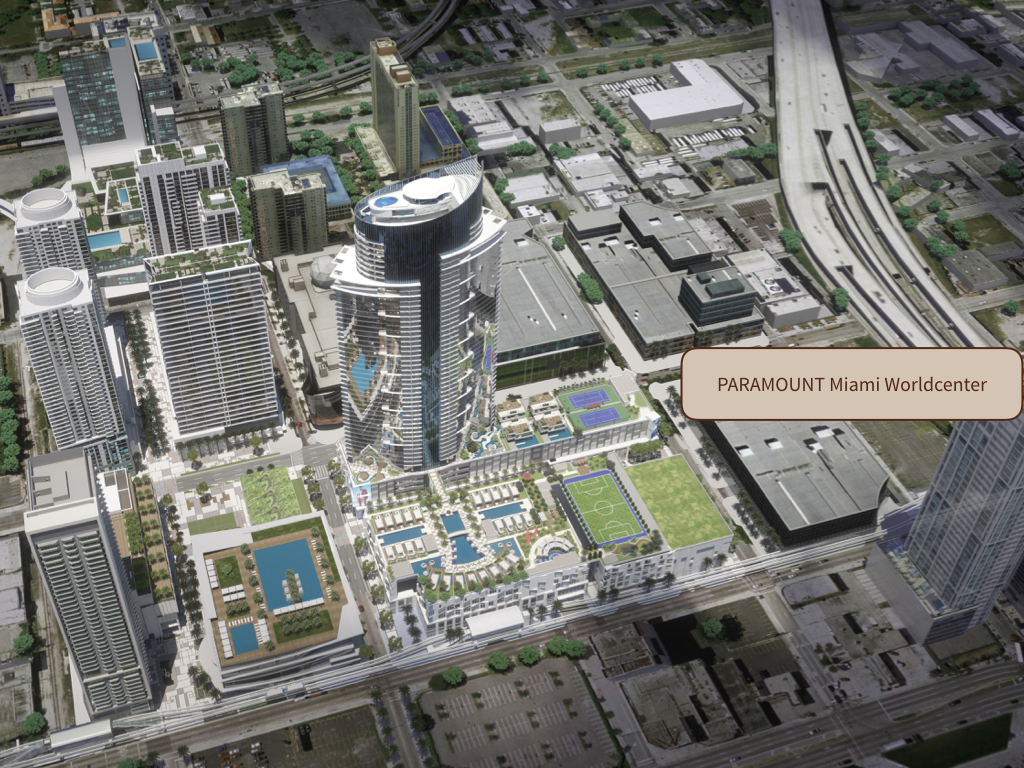 When completed in late 2019, PARAMOUNT Miami Worldcenter residents will enjoy an unparalleled location just an elevator ride away from the exciting array of downtown Miami retail, restaurants, office space, lush parks, galleries and nightlife planned for the cosmopolitan development. Delivering a true urban experience, residents will be within walking distance of Miami's waterfront and most celebrated cultural and entertainment landmarks such as the Adrienne Arsht Center, Pérez Art Museum Miami, Patricia and Phillip Frost Museum of Science, and the American Airlines Arena. Also located nearby is the new Marriott Marquis World Convention Center Hotel and All Aboard Florida's Grand Central Station, which will allow residents direct service to Orlando in three hours, as well as connectivity to the Metro Mover and nearby Miami International Airport.
TYPES
Interior plus terrace
1 bedroom + den / 1.5 bath+ 1,186 sq ft+
2 bedroom + den / 3 bath 1,835 sq ft+
3 bedroom + den / 4 bath 2,578 sq ft+
Penthouse 4 - 6 bedroom + den / 5 - 7 bath 4,533 sq ft+
Inventory subject to availability
PRICE
Pre-Construction
$730,000 - $1,700,000 1 - 3 bedroom
$3,100,000 and up Penthouse 4 - 6 bedroom
Subject to change
RENTAL INCOME
$3.25 - $3.50 per sq ft
Varies by owner discretion, market conditions and season
MAINTENANCE RANGE
$0.76 per sq ft
Pending Condo Association and varies by market price and square feet
FEATURES
10 ft ceilings, designer kitchens, outdoor living rooms, rain showers, spa tubs, large entertainment space, laundry room, private elevators, mobile app
AMENITIES
Skydeck & Lounge
tai chi deck, infinity pool, sunrise pool, firepit, sundeck, observatory
7th Floor
conservatory, relaxation lounge, outdoor lounge, gardens, outdoor bath gardens, steam showers, yoga studio, treatment rooms, state-of-the-art fitness center, boxing studio, aerobics area, soccer field, entertainment, game room, golf simulator, kid's playroom, recreation lounge, demo kitchen, jam room recording studio
Upper Deck
resort pool, poolside bungalows, poolside daybeds, floating seating pods, sunken pods with firepits, summer kitchens with BBQ, children's playground, soccer field, tennis courts, dog park, jogging path
Lower Level
expansive double height lobby, porte cochere with 24-hour valet, basketball half court, racquetball court, business center and meeting rooms, direct access to Miami Worldcenter
NEARBY
Miami Worldcenter, 7th Street Promenade entertainment and shopping, Brightline luxury railway to Orlando
Visa
1. $500,000 investment + $50,000 administration fee + immigration and U.S. Citizenship and Immigration Services (USCIS) filing attorney fees
2. Investment must be at risk and not connected to any guaranty or convertibility
3. Completed required documents and proof of funds
Property Purchase
EB-5 investor option to purchase condo unit at PARAMOUNT Miami Worldcenter
1. Deposit required 30% (instead of 50%) of gross purchase price
2. Buyer called to close (at Temporary Certificate of Occupancy) one of three ways
   a. Pay cash in full remaining balance
   b. Finance remaining balance
   c. Request amendment to Purchase Agreement for extension of closing date as follows
     i. Extension for three years or until the buyer receives ability to become permanent U.S. resident
     ii. Buyer must place additional deposit on Purchase Agreement for $500,000 or less remaining balance
     iii. Buyer acknowledges unit will be rented by Developer or Developer appointed agent until closing
     iv. Buyer and Developer will split net rental income in ratio of buyer deposit to gross purchase price
Example

       Gross purchase price $1,000,000

       Required 30% deposit $300,000

       If closing extension requested, place additional deposit $200,000

       Net (after expenses) rental income split 50/50 Developer and Buyer
ALL INFORMATION ON THIS BROCHURE, AS WELL AS ANY ATTACHMENTS AND/OR REFERENCES HEREIN, SHALL NOT CONSTITUTE AN OFFER TO SELL OR A SOLICITATION OF AN OFFER TO BUY ANY INTEREST IN ANY SECURITY OR ANY SECURITY DERIVATIVE PRODUCTS OF ANY KIND, OR ANY TYPE OF TRADING OR INVESTMENT ADVICE, RECOMMENDATION OR STRATEGY. NO OFFER TO SELL OR SOLICITATION OF AN OFFER TO BUY AN INTEREST IN ANY SECURITY OR OTHER SUCH PRODUCT MAY BE MADE TO A PROSPECTIVE SUBSCRIBER (I) UNTIL A COPY OF THE APPLICABLE SUBSCRIPTION MATERIALS HAVE BEEN PROVIDED TO AND REVIEWED BY SUCH PROSPECTIVE PURCHASER, WHICH MUST BE COMPLETED AND RETURNED IN ACCORDANCE WITH THE TERMS THEREOF, (II) UNLESS MADE IN ACCORDANCE WITH SECTION 4(A)(2) OF THE SECURITIES ACT OF 1933, AS AMENDED (THE "SECURITIES ACT"), AND REGULATION D PROMULGATED THEREUNDER, OR EXCLUSIVELY OUTSIDE THE UNITED STATES TO A PROSPECTIVE SUBSCRIBER WHO IS A NON-U.S. CITIZEN OR NON-U.S. PERMANENT RESIDENT IN ACCORDANCE WITH REGULATION S OF THE SECURITIES ACT; AND (III) IN ANY JURISDICTION IN WHICH SUCH OFFER OR SOLICITATION IS UNLAWFUL. ANY REPRESENTATIONS TO THE CONTRARY ARE UNLAWFUL. WE MAKE NO GUARANTEE OR REPRESENTATION WITH RESPECT TO THE PERFORMANCE OF ANY INVESTMENT, THE SPECIFIC RATE OF RETURN ON ANY INVESTMENT NOR THE RETURN OF CAPITAL.